Translate this page:
| | |
| --- | --- |
| CCSD15 E-News • August 14, 2018 | Welcome Back to School! |
Community Consolidated

School District 15
E-News

August 14, 2018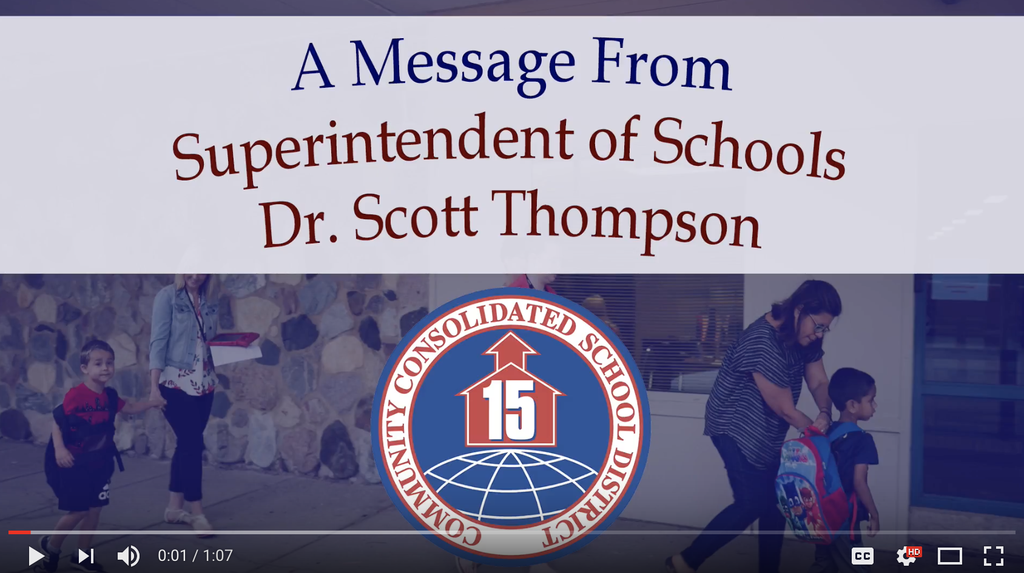 WELCOME TO THE 2018-19 SCHOOL YEAR!
Please watch the video above to view a welcome message from Superintendent of Schools Dr. Scott Thompson. We look forward to seeing students in grades 1-8 again on Wednesday, Aug. 15! Preschool and kindergarten students begin school Thursday, Aug. 16.
---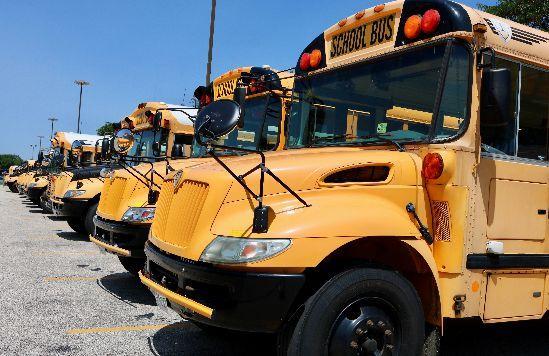 TRANSPORTATION REQUESTS AND CHANGES
Transportation information for students who qualify for school bus service was sent to families last week. Please make note of your child's bus stop and pick-up/drop-off times.

During the first few weeks of the school year, the Transportation Department receives a high number of requests for changes in bus routes. With each change made to a bus route, times and/or stops are altered for every child on that route. In order to avoid changing student bus routes multiple times during this time period, all general education bus route change requests will be processed after Sept. 4. Requests regarding special education and homeless transportation will be processed as they are received.

Although general education route changes will not be made until after Sept. 4, the Transportation Department will notify parents if an existing bus route has space for their child. If an existing route is not available, parents are required to make arrangements for their child's transportation to and from school until receiving official notice regarding their child's bus service status.

If you have questions or concerns regarding this process, please contact your school's main office.
---

TRACK YOUR CHILD'S SCHOOL BUS WITH "MYSTOP" APP
District 15 offers the Versatrans My Stop™ GPS Parent Portal program, allowing parents to track their child's school bus through GPS software installed in every District 15 bus.
Access to My Stop is available to District 15 parents at no cost. My Stop allows parents to see an estimated time of arrival (ETA) for the bus arriving at their child's specific bus stop. The ETA is updated frequently and My Stop will also inform parents if the bus is running late based on the pick-up and drop-off times.
To access My Stop, parents can download the app for free through the Apple or Android marketplaces, or visit the MyStop website.


Your user name is your student's ID number, and password is your student's eight-digit birthdate (Example birthdate: 02102004). If you have multiple children in the district, you can login using any of your children's information to access bus tracking for your entire family. To find your child's student ID number, log into
Tyler SIS
and click on the "family data" tab. If you have trouble logging into Tyler SIS, please call your child's school for assistance.
START-OF-YEAR TRANSPORTATION
The Transportation Department strives to be on-time for all of its school bus routes throughout the District each day. Sometimes situations arise causing buses to be late.

As we begin the new school year, the district is short eleven bus drivers. Although we continue to onboard new drivers during the first weeks of school, please know that the bus driver shortage will cause some buses to be later than expected. We apologize for this inconvenience and ask for your understanding as the district works to train and hire new bus drivers.
---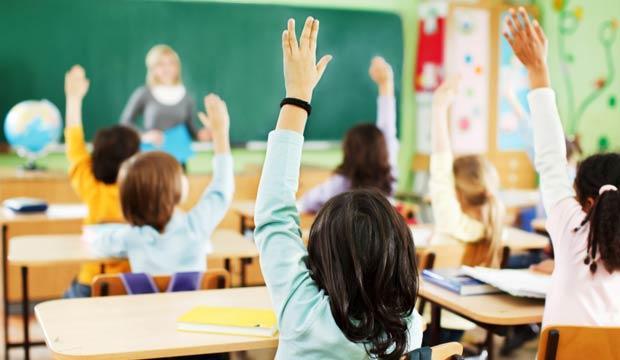 AUTOMATED ATTENDANCE CALLS BEGIN AUG. 15
In an effort to be more efficient in our ability to contact parents in the event of a student absence, District 15 is introducing automated attendance calls this school year.

Tested over the summer school period, parents will receive a phone call if their child is not in school, and the absence has not been verified by a parent.

Calls will be generated at 9:15 a.m. for all junior high schools, Thomas Jefferson, Willow Bend, Jane Addams, Winston Campus Elementary, and Stuart R. Paddock.

Calls will go out at 10:15 a.m. for Central Road, Frank C. Whiteley, Gray M. Sanborn, Hunting Ridge, Kimball Hill, Lake Louise, Lincoln, Marion Jordan, Pleasant Hill and Virginia Lake.

Attendance calls will be done by office staff for John Conyers Learning Academy students and any afternoon preschool or kindergarten students district-wide.

Please call your school's attendance phone line by the time school begins if your child will be absent. This will help our main office staff process attendance verifications prior to the automated calls being generated. As our office staff adjusts to this new system, there may be times when verifications are processed later than anticipated. Please disregard an attendance phone call if you have already verified your child's absence.
---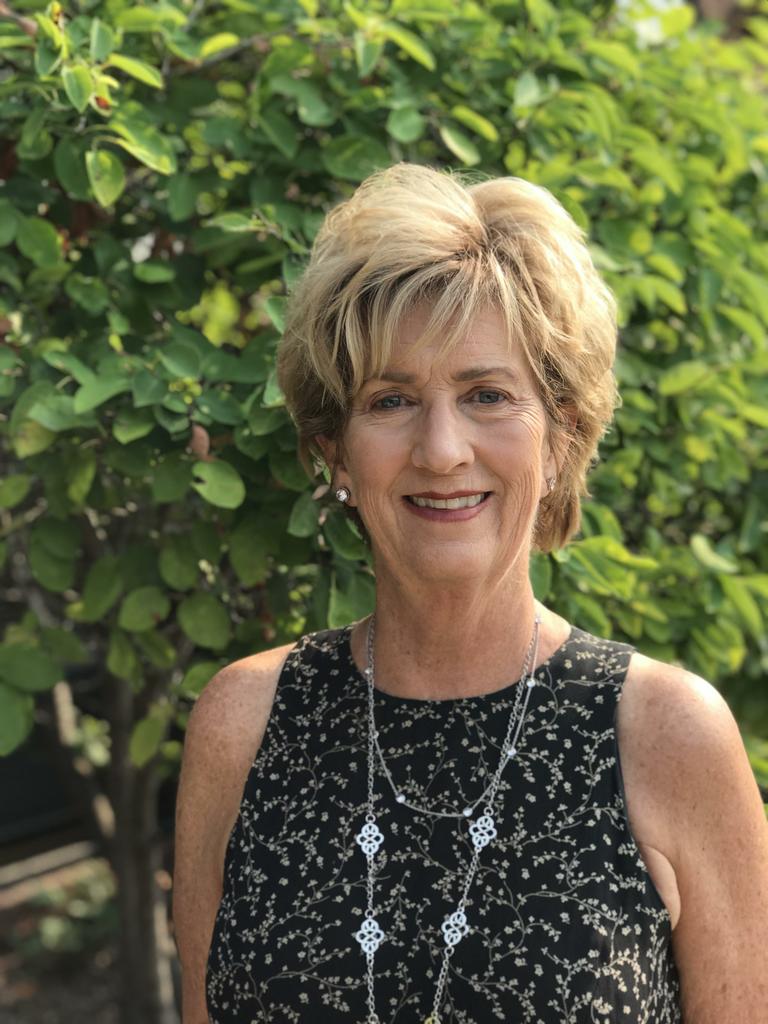 NURSING COORDINATOR NAMED SCHOOL NURSE ADMINISTRATOR OF THE YEAR
Congratulations to District 15 Nursing Coordinator Susan Arndt for earning the prestigious honor of being named School Nurse Administrator of the Year by the Illinois Association of School Nurses!

The award is given based upon an evaluation of a school nurse administrator's standards of practice and professional performance. Susan has 27 years of school nursing experience and 23 more in health leadership. She supervises 46 nurses and 18 occupational therapists. Congratulations to Susan for this well-deserved honor.

---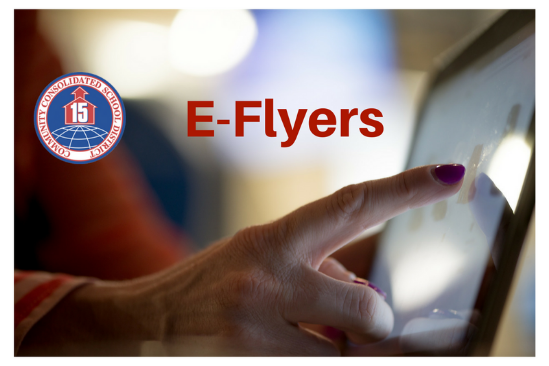 E-FLYERS UPDATED ON CCSD15.NET

Don't forget to check out the
e-flyers
section of our website to see the latest material from our community partners. Information from places like local park districts, Harper College, neighboring high school districts, the Palatine Opportunity Center (POC) and more are frequently updated on this website.
Community Consolidated School District 15 Copyright © 2018, All rights reserved.