Translate this page:
An update from
Community Consolidated
School District 15
Board of Education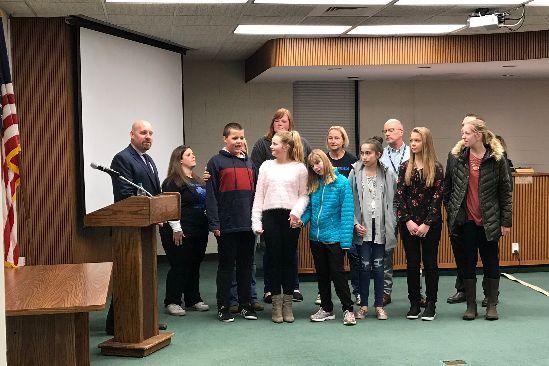 SUNDLING JUNIOR HIGH SCHOOL STUDENTS LEAD PLEDGE OF ALLEGIANCE   
The Walter R. Sundling Junior High School Structured for Independence (SIP) students and their physical education buddies (PE Buddies) led the pledge of allegiance at the April 18 Board of Education meeting.
The SIP PE Buddies program is in its third year at Sundling Junior High School. The program is modeled after a similar program at Winston Campus Junior High that allows students with special needs to have an adapted physical education program while providing the opportunity to socially interact with regular education peers.
The program also offers the PE Buddies a unique leadership opportunity and has been successful at forging wonderful friendships. The PE Buddies apply to be part of the class at the end of their 7th grade year and are chosen by school administration with input from teachers Katie Eckeberg and Paul Behen.

A similar PE Buddies program has been started at Carl Sandburg Junior High School as well, taught by adapted physical education teacher Meghan Sanchez.
---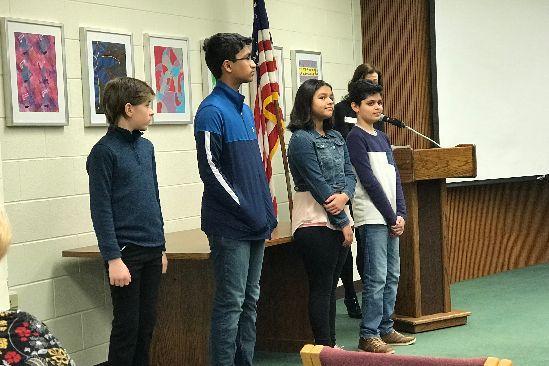 FOUR STUDENTS QUALIFY FOR STATE COMPETITION OF NATIONAL GEOGRAPHIC BEE
District 15 students who qualified to participate in the state competition of the National Geographic Bee were recognized by the Board of Education at its April 18 meeting.
The National Geographic Bee is an annual competition organized by the National Geographic Society, designed to inspire and reward students' curiosity about the world. Students in grades 4-8 from 10,000 schools across the United States will compete in the 2018 National Geographic Bee for a chance to win college scholarships and the glory of being the National Geographic Bee Champion.
The following students qualified to compete at the state level on April 6, 2018, at Illinois State University:
Maitreyi, P.:  6th grade, Marion Jordan Elementary
Ziyan, K.: 5th grade, Central Road Elementary 
Dylan, K.: 7th grade, Carl Sandburg Junior High
Akshay, D.:  8th grade, Plum Grove Junior High
---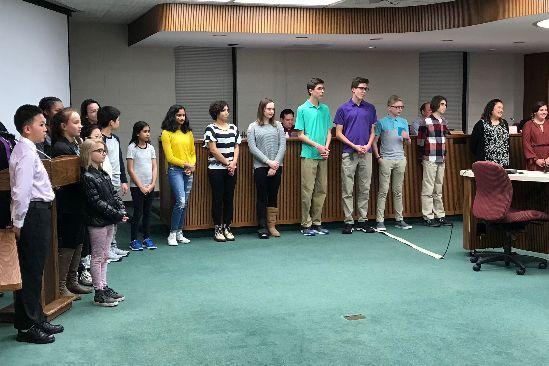 82 STUDENTS EARN 'PERFECT' RATING AT STATE MUSIC CONTEST 
 
Hundreds of band, orchestra, and chorus students from District 15 had an opportunity to participate in the annual Illinois Grade School Music Association (IGSMA) Solo and Ensemble Contest in February.
Students performed before a judge and audience and were given an evaluation sheet based upon their performance. Students were awarded medals in four divisions: good, excellent, superior, and perfect.
District 15 students were awarded 61 perfect rating performances to a total of 82 students. These students were honored by the Board of Education on April 18. Visit our website to learn more about the students. 
---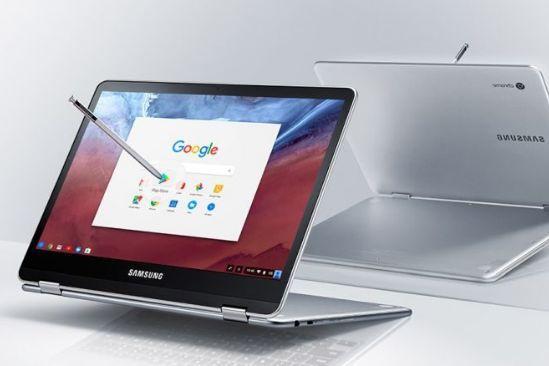 ADMINISTRATION RECOMMENDS TOUCHSCREEN CHROMEBOOK FOR GRADES K-5
The Departments of Instruction and Technology worked with teachers and students at six elementary schools throughout the 2017-2018 school year to evaluate the use of iPads versus touchscreen Chromebooks for students in grades K-5.

The device evaluation process involved teachers, students and administrators. The groups assessed the use of iPads, which are presently used in classrooms, and piloted the use of touchscreen Chromebooks. The devices were evaluated in a variety of areas, including typing, content creation and personalization. Survey results show staff and students both overwhelmingly prefer touchscreen Chromebooks over iPads for students in grades K-5. 
As a result of this evaluation process, the administration will be recommending that the Board of Education approves the purchase of 1,620 touchscreen Chromebooks at its May meeting. Pending board approval, the devices will replace the existing iPads at each elementary school for shared use in grades K-5 at the beginning of the 2018-19 school year. The purchase expense is part of the existing technology budget and will not require additional taxpayer funds. 
The Board of Education will vote to approve the purchase of the new technology at its May meeting, for an August 2018 distribution.
---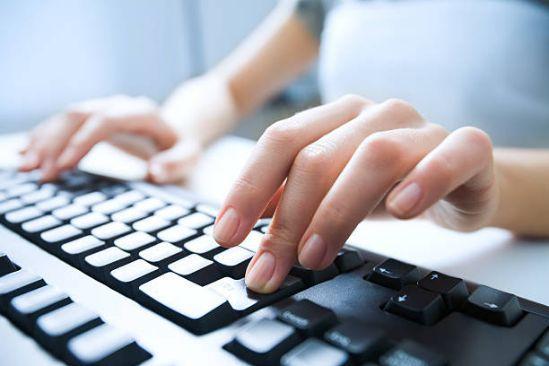 ADMINISTRATION RECOMMENDS STUDENT INFORMATION SYSTEM SWITCH
After careful evaluation of District 15's student information system (SIS), the administration is recommending a change in provider. 
A student information system is an important tool that is used to house contact, health and other key educational information. District 15 administration is recommending a change from the vendor Tyler to a more widely-used product known as Infinite Campus.
The use of Infinite Campus will offer greater data customization features, enhanced technical support and a more intuitive user experience for both parents and staff. In addition, High School Districts 211 and 214 are both Infinite Campus clients, providing a consistent platform for families throughout their K-12 career. 
The Board of Education will be asked to vote on the purchase of Infinite Campus at its May 9 meeting. Pending board approval, implementation of the new product will occur in early 2019.
---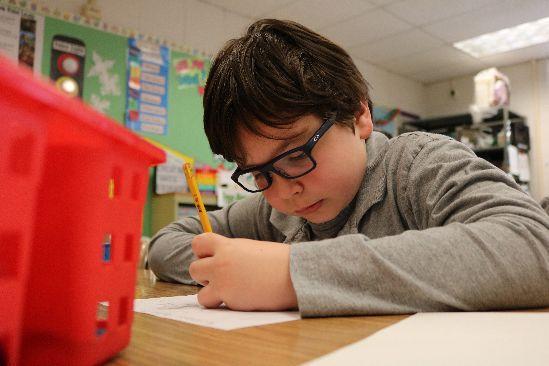 STRATEGIC PLAN REVIEW UNDERWAY 
The Board of Education reviewed a draft version of the District 15 strategic plan at is April 18 meeting. The plan was developed during a March retreat, led by a third-party consultant, and is meant to provide strategic direction to the district over the next several years.
Information gathered from a community survey and stakeholder focus groups was used to determine the two bookends of the plan: Community values and the definition of student success. The board and administration used this information to develop informed board priorities, administrative goals and action plans for achieving success. 
The plan will be discussed in detail at a town hall meeting Monday, April 30, hosted by community engagement group OurD15Voice. The event will take place in the Winston Campus cafeteria at 7 p.m. A Facebook live stream will be available for those unable to attend in person. The public is welcome to provide feedback on the plan and ask relevant questions during the meeting.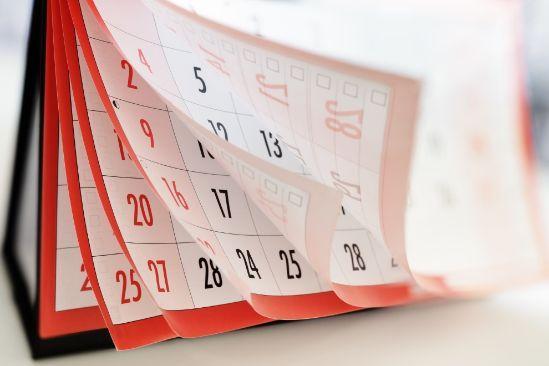 B

OARD APPROVES LAST DAY OF SCHOOL

 

At its April 18 meeting, the Board of Education approved Wednesday, May 30 as the last day of school for the 2017-18 academic calendar. 

The board also approved the 2018-19 school year calendar at the meeting, and previously approved the 2019-20 calendar. Visit our website to view the calendars in full.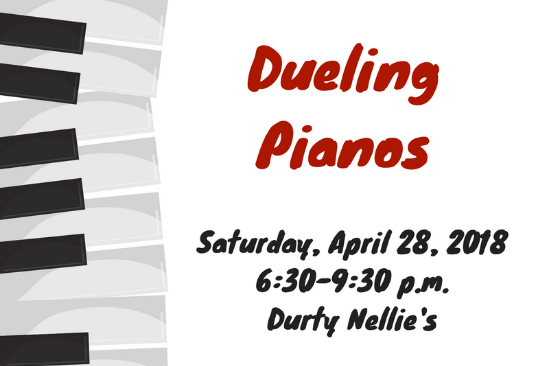 SUPPORT THE EDUCATIONAL FOUNDATION AT ANNUAL DUELING PIANOS FUNDRAISER


Tickets are now
on sale
to the one-five Foundation's Dueling Pianos Friendraiser, set for Saturday, April 28 at Durty Nellies.
When you buy a ticket to this event, you are supporting classroom mini-grants, Lego Robotics and other educational enhancements for District 15 students.
Click on this link to buy your tickets online.
Any District 15 teacher in attendance will be entered in an on-the-spot raffle for a $250 mini grant.
​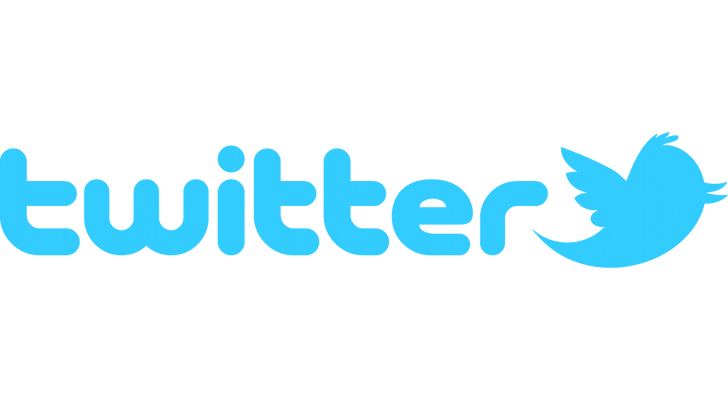 Community Consolidated School District 15 Copyright © 2018, All rights reserved.